#BlogTour – No Time To Cry by James Oswald
From one of the UK's biggest crime writers – a phenomenal new series guaranteed to have your heart in your mouth.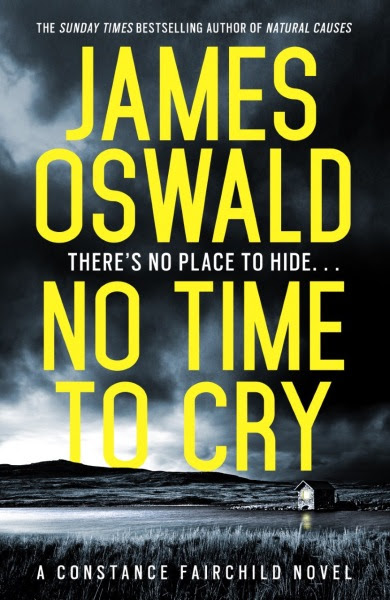 From the man who brought you the bestselling Inspector McLean novels.
Book blurb
Undercover ops are always dangerous, but DC Constance Fairchild never expected things to go this wrong.
Returning to their base of operations, an anonymous office in a shabby neighbourhood, she finds the bloodied body of her boss, and friend, DI Pete Copperthwaite. He's been executed – a single shot to the head.
In the aftermath, it seems someone in the Met is determined to make sure that blame for the wrecked operation falls squarely on Con's shoulders. She is cut loose and cast out, angry and alone with her grief… right until the moment someone also tries to put a bullet through her head.
There's no place to hide, and no time to cry.
I'm delighted to have been invited to join the No Time To Cry BlogTour by Anne Cater of RandomThingsTours and to be opening the tour today alongside @collinsjacob115 Do take a look at the BlogTour details below.
My thoughts
Although I've heard good things about his books I'd not read any James Oswald before! So when the opportunity arose to join this tour I jumped at it.
I've often said that one of my main reasons for reading a series from a writer, apart from a cracking good story of course, is the ability to get to know it's characters especially the main character(s), the author has the time to bring that insight and depth. With No Time To Cry there is one main character and the reader is immersed in DC Constance 'Con' Fairchild. The story is told from her point of view, by her and we are immediately plunged into her thoughts, life and character.
The premise is terrific DC Fairchild is working an undercover operation and is called into the operations base where she finds her boss DI Pete Copperthwaite dead, he's been shot, executed. DCI Bain attends the scene, even in the initial response to Pete's murder it's fast becoming clear that something is seriously amiss. Con is sent home to await a debrief.
She takes a slight detour on the way home to the station to check out the surveillance system in the ops base. What she finds only confirms all her fears and when she comes in for the debrief it's clear where the blame is being laid. Is Con really a suspect – how could that be? Pete wasn't just her boss, he was her friend someone she looked up to and respected she could never do such a thing! Surely they know that….
Professional Standards are being brought in and Con's life and career seem to be going down the pan fast. Then someone tries to kill her.
An old school friend makes contact with Con, asking for help, her little sister Izzy has disappeared. Con's a bit surprised – why hasn't Izzy been officially reported missing?
The characters are well drawn, as you would expect from such an experienced author, the story builds pace and tension with plenty to keep you guessing along the way. Some of the characters are not too nice and some of the subject matter may be difficult but there is nothing overly graphic. I liked Con, although the role Pete was given irked ever so slightly, she has an interesting background and a strong spirit.
As the plot thickens we follow Con north to escape the threat in London and get some space to work out what's going on. There are twists and turns to this elaborate plot which unfold as Con puts the pieces together. Will she find Izzy before it's too late? Will she clear her name of Pete's murder and find the real killer? This is a compelling story.
I look forward to reading more of Constance Fairchild.
Now enjoy the BlogTour Wildfire Q&A with James Oswald……
Quickfire Questions with James Oswald
Give us three adjectives to best describe your new novel? Thrilling, breathless, short
What are the three most important character traits of your protagonist? Dogged determination, ability to think on her feet, she doesn't much care what others think of her
Where is the novel set?
London, Northamptonshire, Perthshire and Angus
Who is your biggest influence as a writer?
Without a doubt, Terry Pratchett
Have you ever killed anyone off from real life in one of your novels?
Frequently. One friend even asked if he could be the villain. He dies naked in his bath.
What was your favourite 'terrible' review?
The Hangman's Song, book three in the Inspector McLean series, has a one star Amazon review that ends "Incidentally, even the title is misleading – there's no singing in the book."
What is your favourite writing snack?
Chocolate. It's the perfect brain food.
Which of your characters would you most like to have dinner with?
Madame Rose. Or maybe Mrs McCutcheon's Cat.
Blog
Tour
With thanks to Anne Cater for the invitation to join the No Time To Cry Blog Tour and to Wildfire for a copy of the book. Like to hear more about it? Then check out these brilliant Blogs………
Information
Published by:
Wildfire an imprint of the Headline Division of Hachette UK
HEADLINE PUBLISHING GROUP (An Hachette UK Company) @HachetteUK
Publication: 1 Nov. 2018 Paperback; Ebook and Audiobook are also available.
Author
James Oswald is the author of the Sunday Times bestselling Inspector McLean series of detective mysteries, as well as the new DC Constance Fairchild series. James's first two books, NATURAL CAUSES and THE BOOK OF SOULS, were both short-listed for the prestigious CWA Debut Dagger Award. AS COLD AS THE GRAVE is the ninth book in the Inspector Mclean Series.
James farms Highland cows and Romney sheep by day, writes disturbing fiction by night.
James Oswald Website @SirBenfro
Books
Inspector McLean Series